ISE welcomes new faculty member S. Rasoul Etesami
Madeleine Hubbard
7/18/2017 11:24:57 AM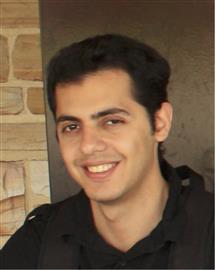 When Dr. S. Rasoul Etesami first came to Illinois, he was most surprised by the snow. Etesami says, "When I arrived here the temperature was -20 [degrees Celsius]… It was killing me… At that time, I hadn't seen any snow like that."

Etesami grew up in Iran, and came to the U of I in 2010 to earn his master's in Industrial Engineering. Etesami went on to earn his PhD in Electrical and Computer Engineering from Illinois. Upon finishing his PhD, Etesami did post-doctoral research at Princeton University.

Being in the United States was very valuable but difficult at times for Etesami. He says he went seven years without seeing some of his family members.

While at Princeton, Etesami says he worked "on behavioral decision-making problems on smart grids", and he "used these behavioral studies to analyze the role of electric vehicles in smart grids."

Etesami says that beside his works on decision and control his research used prospect theory "to study the behavior of decision immersion market and see how it influences the outcome and fluctuation of price." From there, Etesami focused on the management of electric charging stations across networks of roads.

Etesami is returning to Illinois this fall as an assistant professor in the ISE Department. Etesami says he is "a bit nervous but more excited about the beginning."

When Etesami was a TA at the U of I, he says he "noticed that students here are very understanding." Looking at his professorship, Etesami says "I'm very open to any new ideas [and] feedback I get from students during the class, and I'm going to adopt new strategies and adapt them based on the situation."

Etesami says, "When I started my PhD, I didn't plan to go into academe. My goal was to go into industry, but when I joined my PhD group, I was working with a great advisor and surrounded by many good friends who most of them were very interested in academe… being in that environment changed my ideas about what I really wanted to be in the future… I'm so glad that I was with them."

Etesami admits that at times he still calls his former professors by their formal titles, even though he now works beside them. He says, "I feel a bit unusual and a lot honored because until now, I was their student and attended their classes. But now, I'm going to work as a colleague next to them."

Part of what drew Etesami back to the U of I is the diversity. He says, "I've been to other universities, I've talked with different people, but here is especially different for me. We can pretty much find a person in any area of expertise that you want in the campus, and I love it."

With his research, Etesami says "Just focusing on one specific area is not enough. Sometimes you have to go over multiple disciplines…. That's why I want to collaborate more with people here."

Looking to the future, Etesami says, "I'm excited to basically work with different researchers from different departments."

Selected Publications:

S.R. Etesami, W. Saad, N. Mandayam, H. V. Poor, Smart Routing of Electric Vehicles for Load Balancing in Smart Grids, to appear in 56th IEEE Conference on Decision and Control, CDC 2017 (to appear).

S.R. Etesami, W. Saad, N. Mandayam, H. V. Poor, Stochastic Games for Smart Grid Energy Management with Prospect Prosumers, IEEE Transactions on Automatic Control, 2017 (to appear).

T. Basar, S.R. Etesami, A. Olshevsky, Convergence Time of Quantized Metropolis Consensus Over Time-Varying Networks, IEEE Transactions on Automatic Control, Volume 61, Issue 12, pp. 4048-4054, Dec. 2016.

S.R. Etesami, T. Basar, Game-Theoretic Analysis of the Hegselmann-Krause Model for Opinion Dynamics in Finite Dimensions, IEEE Transactions on Automatic Control, pp. 1886-1897, 2015.

S.R. Etesami, T. Basar, Price of Anarchy and an Approximation Algorithm for the Binary-Preference Capacitated Selfish Replication Game, Automatica, Volume 76, pp. 153-163, 2017.

S.R. Etesami, T. Basar, Complexity of Equilibrium in Diffusion Games on Social Networks, Automatica, 68, pp. 100-110, 2016.