Josh Weisberg BSIE 2017
Emily Scott
3/16/2017
Josh Weisberg first knew he wanted to study industrial engineering when he realized there was one thing about the airline industry that he found even more amazing than the fact planes can fly.
"The fact they can coordinate all these planes moving, the input and output of goods, the passengers, all these little baggage carts on the ground — that's what blows my mind," he says.
Now a senior, Weisberg says he's enjoyed what he's learned through his IE major at the University of Illinois. His IE skills have even transferred over to his involvement in Illini 4000, a student-led non-profit organization that raises funds and awareness for cancer research.
Weisberg got involved with the organization during his freshman year after learning about Illini 4000 on Quad Day.
He grabbed a flyer from the group's booth, thinking nothing of it until a week later when his friend mentioned Illini 4000 to him.
"I was like, wait, how did I not realize this when I saw it? How cool is it that you can bike across the country to raise money for cancer research?" he says. "That's such an awesome adventure and so impactful at the same time."
The group raises cancer awareness through initiatives like the Portraits Project, but their most notable effort is their annual cross-country bike ride, which Weisberg participated in his freshman year.
As a part of a team of 20 that biked across the country that year, he says it was the biggest adventure of his college career.
From the tamer East Coast to the flat Midwest to the challenging but rewarding West Coast paths, Weisberg says he loved every minute, and that the experience allowed him to grow closer with his fellow teammates.
"It was a big deal for me, but even more so has been afterwards, serving on the board," he says.
Weisberg served as the logistics chair for the organization as a sophomore. He was responsible for planning out the group's bike route for their annual trip.
"That was really fun, because I love planning and organizing," he says.
His IE background ended up playing a part in his logistics role. Not only did Weisberg coordinated every turn the bikers made that year, he also improved the way that the team organized meetings with beneficiaries, such as Relay for Life, along the route.
This year, he's serving as the vice president of the organization, a role that involves training the entire team as they prepare for the cross-country ride this summer.
He sees it as one of the most rewarding jobs he will have in his life.
"When else do I get to take 25 kids and tell them how to go about what's going to be one of the greatest adventures of their life?" he says.
Though his involvement in Illini 4000 gave Weisberg some of the most memorable moments of his college experience, he sees IE as what gave him the knowledge base to pursue new opportunities.
"Overall, the thing I love most about IE is just how many different types of classes we get to take," he says. "You just get a very broad overview, which I really like."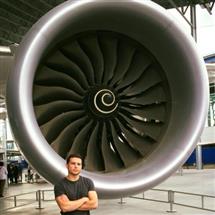 Weisberg's interest in strategy and supply chains led to a job offer from Boeing. After graduation, he will enter the company's business rotational program in Seattle.
"I've always wanted to work for Boeing," he says.
He hopes he can become involved with strategy at the company.
"That's a big part of what got me interested in Boeing — thinking about the different types of planes and how they decide what to build and where to build it, how to design the supply chain," he says. "The supply chain of the Dreamliner is the most fascinating thing I've ever learned."
Overall, he says he wants to keep an open mind, and he sees his opportunity with Boeing as an opportunity to keep exploring.