Rebecca Reck PhDSEE 2016
Doug Peterson
9/1/2016
Rebecca Reck spent much of her eight years in industry designing autothrottles and other controls for business and regional airplanes. As she explains, an autothrottle acts like the cruise control of a car, but instead of freeing a person's foot, it frees a pilot's hands by automatically adjusting the power setting of an aircraft's engine.
The irony is that even though Reck has worked extensively on hands-free controls, she is very much a hands-on person in her own work.
In fact, this ISE alum has focused much of her academic life on helping students get hands-on engineering experience. She received her PhD in systems and entrepreneurial engineering from Illinois in 2016, and her doctoral work included the development of a $130 hands-on laboratory kit that can do the job of $15,000 worth of lab equipment.
For Reck, it's all about preparing students for their work life ahead.
She mentored incoming engineers when she was an engineer at Rockwell Collins in Iowa, but she noticed that students were entering the workforce with vastly differing levels of preparedness. Reck found that the students who were most prepared came from undergraduate programs where they did considerable laboratory and project work.
"So my focus in teaching has a lot to do with my drive to better prepare students coming out of undergraduate programs to take the kind of positions I had in industry," she says.
Today, Reck is doing just that as an assistant professor of mechanical engineering at Kettering University in Flint, Michigan—a position she took this January while finishing her PhD in ISE at Illinois. Landing the job at Kettering was a homecoming for Reck, who grew up in nearby Fenton, Michigan.
Kettering had its beginnings in 1919, almost 100 years ago, and for most of its history the school was known as the General Motors Institute (GMI)—a training ground for workers in the automotive industry. Reck's own grandfather learned his skills as a millwright at GMI, and he spent his career welding and installing machines in GM factories.
But Reck's grandfather is only one example of her family's hands-on history. Her father and mother ran their own construction company, building pole barns and houses, so Reck grew up surrounded by tools.
"My father owned a suite of every tool you would need," she says. "Friends found it amusing that when I talked about cordless equipment, I was talking about drills, not phones."
Reck's interest in engineering was solidified in high school, when she attended weekend camps for women at Kettering University, as well as summer camps at Lake Superior State University and Rose-Hulman Institute of Technology.
She went on to get her undergraduate degree in electrical engineering in 2005 at Rose-Hulman in Terre Haute, Indiana—a school that put a big emphasis on laboratory work. Reck estimates that she had "easily 20 labs" during her time there, in comparison to some universities, where students might have fewer labs in four years.
After receiving her bachelor's degree in 2005, she began the job at Rockwell Collins, where she steadily moved up into project management, "but it wasn't as fulfilling to me as tinkering around and doing the actual engineering work."
It also wasn't as fulfilling as teaching.
Reck was always drawn to engineering education, but she says she wanted to make sure she had industry experience before moving into academia. So that's just what she did. During her eight years at Rockwell Collins, she completed a master's degree in electrical engineering from Iowa State University through distance education, and then came to Illinois for her PhD.
Reck says she clicked with ISE at Illinois because it was one of the few graduate programs that appreciated her industry experience. "I also liked the flexibility of the systems engineering program at Illinois," she says. "I could shape it toward my interests and get the skills and training I was lacking."
The kit she developed at Illinois was one-third of her PhD, and she created it for the General Engineering 320 class. Students in the class had been sharing six lab stations, each one set up with $15,000 worth of equipment. So she developed a lab kit that cost only $130—roughly the price of a textbook.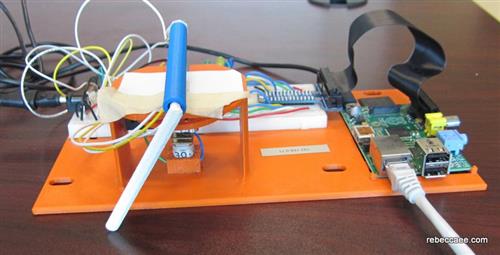 She also conducted a quasi-experiment, in which half of the students in the class used the low-cost kit, while the other half used the more expensive laboratory workstations.
According to Reck, they found out that students with the cheaper kit did just as well as those with the more expensive equipment.
"Based on the data we collected and the assessment we did, there was not a statistical difference in student performance in final exams and tests or the student experience within the lab," she says. "It didn't take one group longer to complete the experiment, so overall the student experience was basically the same."
The kit is equipped with a Raspberry Pi—a single-board computer the size of a deck of cards. The kit also has a small DC motor; a potentiometer as a position sensor; an optical encoder wheel, which is attached to the motor as a speed sensor; and a solderless breadboard that includes interfaces between the Raspberry Pi, motor, and sensors.
An advantage of such portable, affordable kits is that students who are taking online classes can have equipment to do lab work—something that Reck didn't have while doing her master's degree off campus.
"That was part of what drove my research at Illinois, developing lab kits that you could take anywhere," she says. In the other parts of her PhD, she surveyed faculty to study what students need to know about control systems, and she worked as a project manager in a projects course.
During her first half year at Kettering, she taught the lecture for the dynamic systems controls course and has plans to develop new courses and get a research program up and running. On the side, she pursues a variety of interests, including amateur photography and music. (She plays the flute and handbells.)
Inspired by a hands-on mother, who worked with arts and crafts, Reck even designs jewelry made out of electrical parts—resistors, capacitors, diodes, and transistors, as well as small gears for her more mechanically inclined friends.
But even with all of her many interests, engineering remains paramount.
"I want to share that passion with students," Reck says. "I figured I could make more of an impact by training the next generation than by being an engineer myself."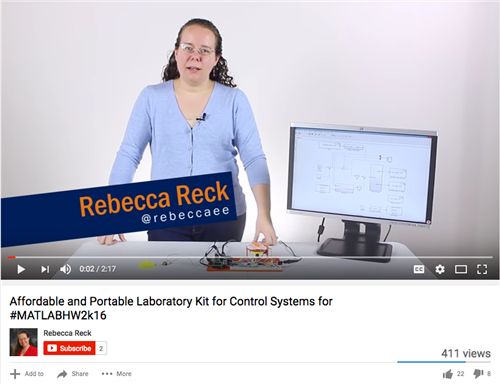 ---
Press Release on SWE Award:
The Society of Women Engineers Recognizes ISE Alumna
Rebecca M. Reck, Assistant Professor at Kettering University Accepts the Distinguished New Engineer Award
August 16, 2016 – The Society of Women Engineers (SWE) has recognized Dr. Rebecca M. Reck, assistant professor of mechanical engineering at Kettering University, for her impact on the Society as well as the engineering community with the Distinguished New Engineer award. Reck will accept the award at SWE's annual conference, WE16, in Philadelphia, Penn. on Oct. 28, 2016 during the formal awards banquet.
The Distinguished New Engineer award recognizes Reck for her technical performance and leadership within SWE and the community during the first decade of her career, which began at multinational avionics company Rockwell Collins, based in Iowa. There, Reck was a senior systems engineer who designed control systems for business and regional jet aircraft and led several project development teams.
After eight years in industry, Reck began doctoral studies at University of Illinois at Urbana-Champaign, where she researched ways to improve student access to hands-on engineering laboratories by developing an affordable and portable laboratory kit.
Reck has volunteered for SWE on national, regional, and local levels. She has also been a judge for Future Cities and FIRST robotics events and led STEM programming for the Boy Scouts of America and Girl Scouts of the USA.
"As I begin a new phase of my career, in academia, I hope to be able to make similar technical contributions to advance engineering education and help prepare my students to thrive as engineers and leaders in their career as well," Reck says.
The award also recognizes Reck's continuing dedication to SWE's mission – striving to highlight the impact and importance of women in engineering across the globe, leading by example, and demonstrating that a career in engineering can be a fulfilling, rewarding pursuit for women of any background.
"The individuals acknowledged in this year's awards program have made a significant impact on their community as well as the engineering and technology community as a whole," said Jessica Rannow, president of SWE. "These leaders are who make it possible to remain a catalyst for change as we work together to empower women in STEM and close the gender gap in engineering."
---
A list of all of the 2016 award winners is also available, visit http://societyofwomenengineers.swe.org/press-page/504-news-releases/4961-the-society-of-women-engineers-recognizes-leaders-in-engineering-and-technology.

For more information about SWE, visit www.swe.org. For more information about GradSWE at Illinois, visit http://swe-uiuc.squarespace.com/about-gradswe/.

About SWE

The Society of Women Engineers (SWE), founded in 1950, is the world's largest advocate and catalyst for change for women in engineering and technology. The not-for-profit educational and service organization is the driving force that establishes engineering as a highly desirable career aspiration for women. To ensure SWE members reach their full potential as engineers and leaders, the Society offers unique opportunities to network, provides professional development, shapes public policy and provides recognition for the life-changing contributions and achievements of women engineers. As a champion of diversity, SWE empowers women to succeed and advance in their personal and professional lives. For more information about the Society, please visit www.swe.org or call 312.596.5223.