James Mario Davis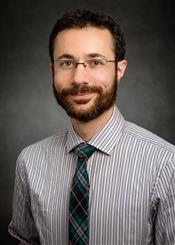 Assistant Professor
210B Transportation Building
For more information
Education
Bachelor of Arts, Mathematics, Rutgers University-Camden, Camden, NJ, 2010 GPA: 4.0/4.0
Ph.D, Operations Research, Cornell University, Advised by David P. Williamson and Huseyin Topaloglu, Ithaca, NY, 2015
Academic Positions
Cornell Prison Education Program Instructor, Fall 2013, Cornell, Ithaca, NY
Cornell Prison Education Program Instructor, Spring 2014, Cornell, Ithaca, NY
Other Professional Employment
Amazon.com Research Scientist Intern, Summer 2014
Research Interests
Algorithms
Customer Choice Models
Pricing
Revenue Management
Selected Articles in Journals
James M. Davis, Huseyin Topaloglu, David P. Williamson, Assortment Optimization Over Time, Operations Research Letters, in press.
James M. Davis, Guillermo Gallego, Huseyin Topaloglu, Assortment Optimization under Variants of the Nested Logit Model, Operations Research vol. 62, 2013.
Basile Couetoux, James M. Davis, David P. Williamson, A Dual-Fitting 3 2-Approximation Algorithm for Some Minimum-Cost Graph Problems, Mathematical Programming 2013.
James M. Davis, Rajiv Gandhi, Vijay Kothari, Combinatorial Algorithms for Minimizing the Weighted Sum of Completion Times on a Single Machine, Operations Research Letters 41. 2013
Other Publications
James M. Davis, Guillermo Gallego, Huseyin Topaloglu, Assortment Planning under the Multinomial Logit Model with Totally Unimodular Constraint Structures, working paper.
James M. Davis, Huseyin Topaloglu, David P. Williamson, Quality Consistent Discrete Pricing Under the Nested Logit Model, working paper.
Research Honors
George Nicholson Student Paper Competition Honorable Mention (2014)
Graduate Research Fellowship (2011)
Undergraduate Operations Research Prize Honorable Mention (2011)
Courses Taught
IE 300 - Analysis of Data
IE 511 - Integer Programming
Related news
Assistant Professor James Davis enjoys solving problems by applying techniques from revenue management and algorithm design.