Megan McGovern, BSGE 2008, PhDIE 2016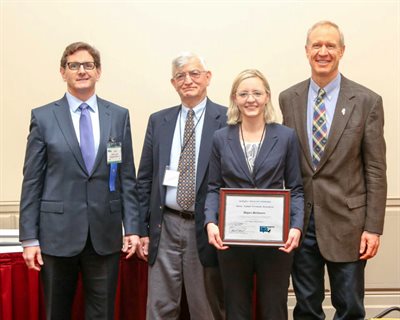 "I whole-heartedly believe that my ISE undergraduate education was the foundation of my success in graduate school. My undergraduate ISE education gave me a wide breadth in important engineering fundamentals (like computer science, electrical engineering, controls, materials, etc.), while still allowing me to focus in on my particular interests via the secondary field option. This was essential to graduate school. Having a concrete understanding of fundamental engineering concepts allows you to solve research problems, which are inherently diverse and often times must be approached from multiple angles."
Stephanie Richartz, BSIE 2015
"Industrial Engineering or Systems Engineering and Design is the perfect combination of engineering and business but includes the autonomy to make your degree unique and align with your passions. The opportunities this degree will provide for your future are endless. I have experience in facility engineering with John Deere, manufacturing and project management with Kraft Foods, and will be starting a career in technology consulting with Accenture. Aside from how prepared my degree has made me to enter the workforce, the community created by the department is unlike any other. As a relatively small department, personal connections are made, academic & professional support is easy to find, fun is prevalent, and you are embraced as part of the ISE family. Being a student athlete at the University has made my college career quite hectic, but the ISE Department and all the wonderful people in it have provided me with all the support I needed to be successful. I'm proud to wear orange and blue every time I step on the track. I can never thank ISE enough for supporting me in all of my endeavors personally, professionally, and academically."
Mark Leipold, BSIE 2015
"Industrial Engineering — I chose it because I like looking for better ways to do things, and IE is all about creating better systems and processes. I love the understanding we gain of business, and how many different paths IE opens up for you. There are really no limits to what you can do with an IE degree. This summer I am doing Whirlpool's Manufacturing Leadership Development Program. I am at their plant in Cleveland, TN which produces most of the ovens they sell. My role is to help create processes that are more lean, mainly by reducing scrap to help the plant reach their scrap targets, which they are currently missing. This job seemed to fit in well with what I have been learning. I have not had any manufacturing experience, so I expected Whirlpool's program to provide a lot of good experience with manufacturing, which it has so far. Whirlpool also offered a generous compensation package, and had a lot of resources in the form of employees currently in the full-time MLDP program, or recently finished graduates of the program.... The most exciting part about being a student at Illinois is the limitless chances you get to do whatever you want to do. There are so many things I have gained from Illinois — the job offerings available to apply for, the engineering resources available, the clubs you can join, the school's athletic teams, and the friends you will make — all are exceptional and come together to make the complete college experience."
Brittany Foster, BSIE 2016
"My best experience in my academic career so far has been completing my final project in GE101. We worked for weeks on that project and spent hours in the lab. We finally finished our project in the middle of the night and it was probably the best feeling I've had while working on something for school... I think the most exciting aspect of Illinois academics is how highly rated the Engineering department is. It can be a lot of work to be an engineering student at Illinois but knowing that companies are interested in our work makes it all worth it."
Evan Rodrigues, BSGE 2014
"I love... Industrial & Enterprise Systems Engineering because it forces students to look at the discipline of engineering first before applying it to a subject matter. It almost gives you an inner peace when you see the similarities between mechanical, electrical, civil, and industrial engineering and be able to apply it to new problems."
Kyle Thayer, BSIE 2014, Summer 2013 Intern, Boeing, Charleston, SC
"My Ilinois Industrial Engineering (IE) degree prepared me for a great summer internship at Boeing where I worked on the aft (tail) of the Boeing 787 Dreamliner. There, my projects included build process optimization, time standards creation, work measurement, and data analysis."
Nicole Tolentino, BSIE 2013, Summer Intern,, Case New Holland (CNH) Construction, Racine, WI
"My internship at Case New Holland (CNH) Construction gave me the opportunity to participate in the development build for the new tractor loader backhoe, fork lift, and tractor designs for an existing series. There, I was involved with physically building a prototype using new design drawings and current work instructions from the assembly line.
I was also involved with the combine headers corn line launch for the Agriculture Department at CNH. My project for the launch was designing and building kit carts for parts at each assembly station to provide efficient floor space and improved ergonomics for operators to assemble parts.
The IE courses I took, and my track option in Supply Chain, Manufacturing, & Logistics prepared me to understand the terminology as well as quality and several production and facility planning concepts necessary to be successful in today's manufacturing world.
My degree from the University of Illinois Department of Industrial & Enterprise Systems Engineering prepared me well for my summer internship at CNH... and has opened many doors for manufacturing, supply chain and logistics internships and full time jobs."
Undergraduate Contact Information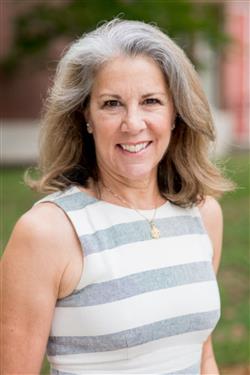 Professor Carolyn Beck
Associate Head Undergraduate Programs
beck3@illinois.edu
Heidi Craddock
Associate Director of Undergraduate Programs

217-244-3855
hcraddoc@illinois.edu
Industrial and Enterprise Systems Engineering
Undergraduate Programs Office
104 Transportation Bldg. (MC-238)
104 S. Mathews Ave.
Urbana, IL 61801
Main Office
217-333-0068
ise-advisor@illinois.edu
Office hours
Monday - Friday
8:00 am – 12:00 pm
1:00 pm – 4:30 pm