Ryan Hoch and Kevin Hoffman, BSGE 2009: Forbes 30 Under 30
Emily Scott
2/24/2017
In their first year studying general engineering at the University of Illinois, Ryan Hoch and Kevin Hoffman both lived at Scott Hall and took the same GE 101 course. The two became friends and spent many long nights in Grainger Engineering Library studying for exams.
Today, they are the cofounders of Overgrad, a startup designed to help students learn about opportunities available to them through higher education.
Their vision in launching Overgrad led to Hoch being named in this year's Forbes 30 under 30 list.
For Hoch and Hoffman, a degree in general engineering was a way for them to explore their mixed interests in business and engineering.
"It gave you the flexibility to take business classes, but I was also really interested in being an engineer," Hoch says. "General engineering was a good mix of both of those."
Their mixed interests and skills ended up enabling them to launch a startup in a completely new area: education.
Three days before he graduated, Hoch learned about Teach For America, a nonprofit organization that recruits recent college graduates to teach in low-income areas. He decided to apply and ended up teaching in St. Louis for two years.
There, the idea for Overgrad formed after Hoch asked his students if they wanted to go to college.
"Ninety percent of them put their hand in the air," he says. "Then I said, 'Where do you want to go?' And they [named] all the nearby, very good schools like Washington University in St. Louis and the University of Missouri."
His students' average ACT score was 15 and the average GPA was 2.5.
"It was a really discouraging conversation to have, because these were juniors and seniors, so a lot of them didn't have the credentials they'd be using to apply to college with," Hoch says. "They really had no idea there was a difference between wanting to do something and actually being prepared to do something . . . I wanted to fix that problem, and I thought technology could do it."
Meanwhile, Hoffman had been working in Chicago as a web developer. Hoch reached out to him and asked if he wanted to help him with an idea.
"I was like, well you're my only good friend that knows how to build something from scratch, so do you want to do this?" Hoch says.
Four years later, Overgrad has developed into a way to integrate technology to help students and their families navigate educational options that can be used to unlock economic opportunities.
Getting feedback from students using the software has helped them learn that students often wish they had information about higher education sooner.
"That's really why we started Overgrad — to get this in front of students so they can own it from day one, so it's not a surprise when they're going to apply to college," Hoch says. "We make that transparent from day one."
This feedback has also helped them see how the software is already helping students in a real way.
Soon after they launched Overgrad, a suburban Chicago school district began using it.
"I remember one of the teachers reaching out to me and saying: 'I really think that your software is changing these kids' lives, I'm having some of them ask to come into the library during their lunch to look at the software, because they're so interested in seeing what options they [have] and what they need to do to get to where they want to be,'" Hoch says.
Instead of going directly to the student, Overgrad works through schools and districts to provide their software to students. Doing this has been a challenge on its own, due to the nature of the sale cycle in education.
"It's really discouraging sometimes, because I think there could be a lot of innovation in education if it wasn't so hard," Hoch says.
As a small company with four employees, they say keeping their goals in focus has been also been a challenge.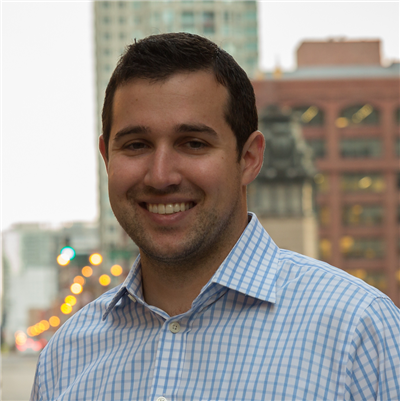 "For the first three years, we didn't pay ourselves," Hoffman says. Now, he says they've reached the point where they can grow organically after figuring out how to make money.
"We're figuring out what we can do now, what we need to prioritize, and then working really hard and trying to get as much done as we can," he says.
Despite their limitations, they're proud of the success they've made thus far.
"What we've been able to do with just four people, I think it's unmatched in what you can have in other spaces," Hoch says
Hoch and Hoffman say they see their engineering education as what gave them the skills needed to pursue opportunities in an unfamiliar area.
"The true value of education is it gives you the flexibility to really pursue what you want. I've been a teacher, a tech consultant, and a startup entrepreneur, and I don't think I would've had the options or abilities or confidence to do those three drastically different things," Hoch says. "I point to my education and my college experience for giving me the ability to feel confident doing that."
They say they are grateful for the recognition from Forbes because it pays tribute to the work they've done over the last four years. They hope it will lead others to recognize the work they're doing today.
"I wish much more that it was an award for our team, and I think it kind of is," Hoch says. "I think it's more a testimony to what Kevin and I and the rest of our team have done over the last four years. And it's what we'll continue to do well into the future."