New Master of Science in Health Technology Program
Carly Defilippo
7/14/2020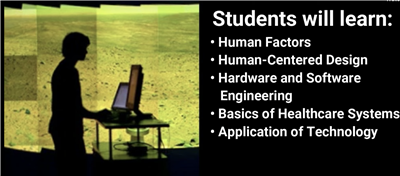 We are thrilled to announce the new Master of Science in Health Technology Program. The program is a collaboration between ISE in the Grainger College of Engineering and the Department of Kinesiology and Community Health in the College of Applied Health Sciences. Throughout this one-year intensive program, students will learn the combination of human factors, engineering principles, and design. The MS in Health Technology (MSHT) will welcome its first class in the Fall of 2020.
The College of Applied Health Sciences, in collaboration with Grainger College of Engineering, offers:
One year (12 months) professional Master of Science degree
36 credit hours
Core courses strengthen skills in human factors and engineering concepts applied to health technology
Electives tailored to individual student interests
Capstone experiences pair students with industry/academic/community partners
Our professional master's program coupled with an experiential capstone provides graduates the opportunity to get a valuable, real-world work experience. Students will be paired with a company or organization where their skills and interests are best suited and will be able to work on projects throughout the year. Graduates of this program will acquire necessary qualifications and experiences to find careers in healthcare organizations, industry, consulting and more.
"The ideal student for this master's program would be someone who is interested in healthcare technology, someone who can think outside the box and innovatively, and someone who enjoys working on problems and solving issues," Dr. Nicole Holtzclaw-Stone, Assistant Director for the Health Technology Education Program and MS in Health Technology Advisor, stated.
For this year (2020-2021), we are offering scholarships of up to $14,000/year to admitted students. You must apply by August 1, 2020 for Fall 2020 (open to all majors). To sign up for an info session, visit https://ahs.illinois.edu/ht-overview. Applications are currently being accepted on a rolling basis and students will receive notification within a two-week period. To sign up for this program, visit https://choose.illinois.edu/apply/.
If you have any further questions, please email healthtech@illinois.edu. Also, check out the College of Applied Health Sciences short introduction video here: https://www.youtube.com/watch?v=Qs3dm4mRByw&feature=youtu.be.