Mandy Briggs BSGE 2002
Emily Scott
9/26/2016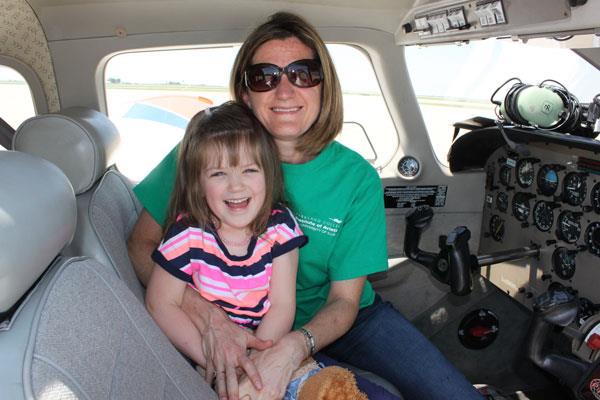 Mandy Briggs never thought her career would include being a pilot. But today, the 2002 general engineering alumna has years of flying experience and is now a flight instructor at the Institute of Aviation at Parkland College.
Briggs started her education at the University of Illinois as an agricultural engineering major. During an internship, she started doing aerial photography for the purpose of remote sensing.
"I basically spent an entire summer flying in small airplanes and I got to the point where I was like, this is something I could do, this is something that interests me," she said. "You get bit by the flying bug, and I got bit."
Briggs began to take flying lessons and looked at what major would be a better fit for what she wanted to do as a career. She decided to transfer into the general engineering program for its flexibility and track options.
"One of the things that I remember is, coming into the program as a junior, how easy it was to get to know people," Briggs said. "People were very helpful and made the transition very easy for me — not only my professors but my classmates. That definitely made the decision to transfer into the department a lot easier."
Briggs said she enjoyed all the first-time experiences she gained through her education and her senior design project.
"I remember I took differential equations and we were one of the first classes on campus to do it on a computer, which sounds crazy, but that was kind of groundbreaking," she said.
After graduation, Briggs worked as a pilot for the same company she interned with during college. There, she used her technical engineering background to work with multispectral imagery, hyperspectral imagery, and data analysis.
Briggs then decided to follow her dream of flying a jet, and worked for a corporate flight department for two years as a pilot.
With two children, she then decided to minimize the amount of time she was away from home, and took a position as a flight instructor at Parkland College in Champaign.
Briggs said her interaction with students is her favorite thing about teaching.
"It's really rewarding to see them kind of struggle to either learn a maneuver or understand a concept that you're teaching, and then see that fall into place, and they eventually understand and progress through their training," she said. "It's very rewarding to see that, because they're all pursuing their dreams, and it's nice to be able to help them along the way."
She said she continues to be interested in aviation for the challenge that it brings.
"There's always something new to learn," she said. "You can always push your skills, you can always work harder to be better."
Her advice to current students is to be open to where career paths can lead.
"I never dreamed that one day I'd be flying airplanes," she said. "Follow where your interests lie, and soak up all the knowledge that you can in the meantime."