Jerry Dobrovolny BSGED 1943
Mike Helenthal with Janet Dobrovolny
9/16/2016 2:24:59 PM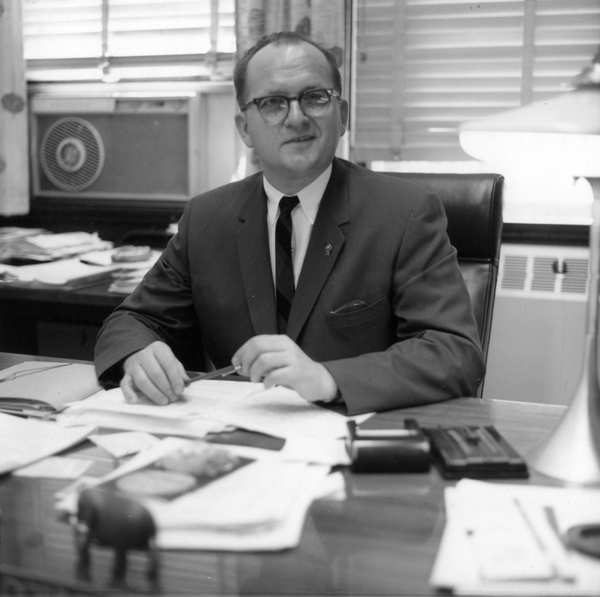 Jerry Dobrovolny is a hero to the ISE community.
Jerry Dobrovolny is the founder of the General Engineering Department, formerly the Department of General Engineering Drawing, which would eventually merge with the Department of Industrial Engineering to become ISE.
He served as head for nearly 30 years.
He is also the benefactor whose generous support makes possible the department's first funded faculty chair in Systems Engineering and Design.
"He spent his whole adult lifetime creating this department," says daughter Janet on behalf of the 93-year-old emeritus professor. "He wanted it to live on for a very long time."
Jerry believed that if you are prepared you will always win.
Janet, now an attorney in the San Francisco area, says her father is a man who lived by a set of common-sense personal and professional principles that included hard work, respect, and curiosity.
At home, the rules included a ban on soda pop, but they also required that the family sit down together three times a day for meals, no matter what.
"It was an extraordinary home life," she says, recalling the days she attended University Laboratory High School as her father labored nearby in the Transportation Building. "He would come home for lunch and we'd all tell each other what we were doing that day."
She credits that regimented but supportive childhood for her and her brother James's successful professional careers as lawyers.
"Those simple meals together are one of the things that helped make our family strong."
The desire for order and structure extended to Jerry Dobrovolny's academic leadership, where he is widely credited for being the architect of the current-day Industrial and Systems Engineering Department.
Born in 1922, Dobrovolny was the son of Czech immigrants, growing up on the East Side of Chicago during the height of the Great Depression. When he started attending elementary school, he still couldn't speak English.
By high school, Dobrovolny's teachers had noticed that his mathematical abilities were off the charts. They petitioned Jerry's parents, asking them to allow their gifted son to attend the University of Illinois.
"My grandfather and grandmother knew he was a pretty smart kid, but they thought he should learn a trade instead," Janet says. "My grandfather was a tailor and he thought his son should do something that would allow him to make a living. How could they possibly have known?"
The teachers, and the University of Illinois, eventually won out, and Jerry Dobrovolny dropped his rabbit-raising business and part-time golf caddying job for the opportunity to learn about mechanical drawing in the Department of General Engineering Drawing.
It didn't take long for his career at Illinois to take off. As a student he was active in the Reserve Officers Training Corps as well as a host of other social and professional organizations. He taught dance lessons "to make extra money and meet girls," according to Janet.
Only after an on-campus introduction to Joan Baker, his wife of 69 years, would Dobrovolny drop the dance lessons.
Jerry was a sophomore when the war broke out in 1942 and he enrolled in the 2-year ROTC program in the Corps of Engineers.
The enrollees were offered to enlist as sergeants, return to school to complete their degrees, and then go to Office Training program at Fort Belvoir Virginia to get the first lieutenant rank in the Corps of Engineers.
Jerry received his BS in General Engineering at the University of Illinois in 1943.
The program at Fort Belvoir was 3 or 4 months. In the last two weeks, Jerry became ill and went to the station hospital and after 2 weeks got worse and was sent to Walter Reed. He was immediately put in an oxygen tent for 2 months.
After 9 months he was discharged with a 100% disability rating.
Upon his return to Champaign, he planned to go to California with his parents. But in December 1944, the department asked him to start teaching a 3-month engineering drawing class to army recruits. He decided to stay.
While teaching in the GED department, he also worked on a navy research project in the department of Civil Engineering, investigating the notch sensitivity of wide steel ship plates that were used to build liberty ships.
In addition, he completed a master's degree in Mechanical Engineering while teaching in GED.
Upon completing his master's, Jerry joined the Department of General Engineering Drawing in 1945 as an instructor and rapidly rose through the ranks to full professor and department head. He served as department head for nearly thirty years, officially retiring in 1987 from what is now known as the Industrial & Enterprise Systems Engineering department.
"They knew what he was capable of," Janet says.
Under his leadership in General Engineering, he was responsible for a number of new initiatives, including Gamma Epsilon, the General Engineering honor society, and the ISE Senior Engineering Program, which has resulted in 93 national awards. Senior Engineering Program, launched in 1961, has since been emulated nationwide and become a staple of engineering degree programs across disciplines.
Jerry Dobrovolny also started getting national recognition for his work. He would eventually be given more than 90 national engineering awards. His National Science Foundation portfolio also grew, and he started regularly leading the campus in funding. He was also recognized for advocating for youth and vocational training, and in 1986 was presented the Illinois Society of Professional Engineering Distinguished Service Award.
Upon his retirement in 1987, the Jerry S. Dobrovolny Scholarship was established to recognize the senior in the GE Department with exceptional leadership qualities and outstanding academic achievements.
In addition to his stellar engineering portfolio, Dobrovolny was also very civic-minded, and made many contributions to the Champaign-Urbana community.
His local claims to fame include his instrumental work on the regional Mass Transit District board, where he was a strong advocate for the landscape-changing Illinois Terminal in downtown Champaign; and his efforts in helping to create Parkland College.
Janet says he was as comfortable in the political realm as he was in the academic world because he was curious about how everything worked.
"He always wanted to know what we were learning in Government class," she says. "He had a very entrepreneurial mindset and thought it was important to be a part of building a better community."
Dr. R.S. Sreenivas, an associate professor and head of ISE's Graduate Studies program, says Dobrovolny is credited with creating the "mutual fund" approach that the department uses to this day. Under it, students are taught tenet engineering concepts that can be applied broadly to other disciplines.
Sreenivas says Dobrovolny realized the ever-changing Engineering field needed a training system that would not only stand the test of time, but would allow students to apply what they learned to an engineering specialty or even another discipline.
Under Dobrovolny's leadership, the department also built partnerships with industry, including turning the senior seminar into an apprenticeship-type program.
Established in 1961, the ISE Senior Engineering Program is now emulated by departments nation-wide.
"Before him, an engineer was honing his or her skills by learning more and more about less and less," Sreenivas says. "After him, it was more of a comprehensive approach, with the aim of a more well-rounded engineer and a more-skilled labor force."
He says the impact of Dobrovolny's approach is still being felt.
"Having that foundation in place is what allows us now to focus on systems," he says. "The whole idea was to remove the straitjacket that was on engineering, and he did that. He created this adaptable, malleable thing that we still utilize."
John Southwood, ISE's director of advancement, says Dobrovolny's name continues to be revered inside and outside the department.
"When someone manages a department like this for three decades here at Illinois – they really become legends," he says. "At universities, the way we honor our legends is by naming professorships and chairs after them."
"To be a successful head for any length of time requires a combination of academic achievement, diplomatic finesse, political skills, and sheer patience," he says. "Jerry was adept at all of them."
Through an endowment, Dobrovolny has been a longtime financial supporter of the department. But establishing the faculty chair in April is his most enduring gift.
"The hallmark of Engineering at Illinois is its world-class faculty," Southwood says. "By establishing a faculty chair, Jerry will help ISE attract and retain the best and brightest in their fields for years to come," Southwood says.
Dr. Rakesh Nagi, department head and Donald Biggar Willett Professor of ISE, says Dobrovolny's impact on the department is felt daily.
"He was a true leader for this department," Nagi says. "You don't lead for 30 years without caring for it very deeply."
"His transformative gift of [this] chair will help us attract a senior faculty member in Systems Engineering and Design that will help us increase our visibility in the external world, and lead our research agenda into the future," he says. "It will help us establish new relationships with industry, solve problems and lead the national agenda."
"It's like he never left."
The Jerry S. Dobrovolny Distinguished Professorship Fund will honor this gifted educator, mentor and scholar by supporting and recognizing outstanding faculty members in the Department of General Engineering. With your generous support, Professor Dobrovolny's legacy will live on at the University of Illinois at Urbana-Champaign, and the Department of General Engineering will ensure the continued excellence to which Professor Dobrovolny devoted so much of his life.