ISE Sweethearts
Madeleine Hubbard
12/15/2017
A Facebook
study
shows that almost 30% of married couples attended the same college. While marrying your college sweetheart might be a fairy tale for some, it's a beautiful reality for others.
Here are three couples that met in ISE and are still married today: Fred and Julie Jewell, Tim and Lynda McGrath, and Richard Henneman and Janet Fath.
Fred and Julie Jewell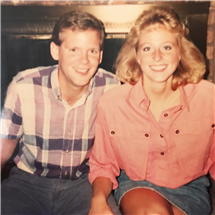 Fred Jewell started at the U of I in 1983 as a freshman studying Computer Engineering. Julie Furmanek began at Illinois the same time, studying Bioengineering. Both of them ended up transferring into General Engineering (now renamed Systems Engineering and Design) by their sophomore year, and they met each other in class.
28 years of marriage, two children and numerous cities later, Fred and Julie Jewell are still enjoying life together.
As an undergrad, Julie ran cross-country and track and was in Phi Mu sorority, Society of Women Engineers, and Society of General Engineers. She also worked as an usher at the Assembly Hall, now known as the State Farm Center. Julie says, "I worked all the basketball games, the state high school wrestling tournaments, and concerts, so that actually was fun because I got to see a lot of things I probably never would have paid to go see."
Julie says she decided to transfer into GE because "I liked the ability to have an engineering foundation but also have a secondary field", which for Julie was business. She says, "I really didn't know what I wanted to do at the time, but in the end it really turned out to be a good combination for starting out in consulting, because I had the analytical background and then the basic business fundamentals, which really served me well."
During his time as an undergrad, Fred was a member of Sigma Phi Epsilon, Illinois Society of General Engineers, and Gamma Epsilon. He also ran his own DJ business for parties. About his time at Illinois, Fred says, "The friendships that I made at Illinois are lifelong."
As Fred entered his sophomore year, he lost interest in computer engineering and transferred into GE, focusing on human factors and ergonomics. He says, "I was really interested in how people fit into systems… It was really cool to be able to weave people together with the engineering we were learning."
After Professor Jerry Dobrovolny's senior seminar class, Fred and Julie would walk to their apartments together. It wasn't until graduation week that they started dating. Both had broken up with their long-term significant others the second half of senior year. Fred says, "We had gone out with a bunch of friends who were graduating, kind of just as a celebration outing to Bombay Bicycle Club.... Julie and I ended up standing next to each other for most of the night talking… The timing was right."
Once they graduated, Julie and Fred went on for their Master of Science in General Engineering at ISE. While earning their MSGEs, Fred and Julie were full-time students, worked as TAs, and worked 30 hours a week off campus at Integrated Controls and Computer Systems (ICCS). Julie says that in grad school, "We thought we were really rich because we had our Teaching Assistant stipends, and it was just fun being a little bit more independent."
Looking back at earning his master's degree, Fred says, "I remember working a lot in grad school, but I just really liked teaching."
After earning their masters', Fred and Julie began working for Anderson Consulting, now known as Accenture. There, Fred says he worked in "process development and process improvement, and eventually change management." Today, Fred works with Jabian Consulting and says he works "on the human capital management focus area that we've got and built up… within the company over the last eight years. I do a lot of strategy, organization design, change management, and leadership development work with my clients."
At Accenture, Julie says she did "client work, technology coding and implementing systems" and worked "on the technology support side of things, supporting the manufacturing, the inventory control and ultimately some of the finance side of the application." Today, Julie works at Anthem, Inc. as an IT change management lead.
Fred and Julie have enjoyed living in Atlanta for the past 20 years. Julie says "They're calling it the Silicon Valley of the Southeast now with lots of technology companies coming here. It's a great economy to work in."
They have two children: Maddie, 23 and Max, 20. Maddie graduated from University of Georgia, Athens, and is working as a KPMG strategy consultant. Max is a sophomore at Ole Miss.
Giving advice to current college students, Julie says, "I think a lot of the younger employees are very uncomfortable with uncertainty. They want to be told exactly how to do everything or they want to know what the future's going to hold for sure and that's just not realistic. I think they've got to be comfortable with being uncomfortable." She also says, "you have to look forward far enough and think about where you want to be and identify the steps that you need to take to get you there. Be proactive about your career versus just letting your it happen to you."
Fred's advice is, "If you have an opportunity to go an event and meet somebody who's going to be there that's been successful… have some guts to walk up to them, ask them some questions, and learn what you can from them. They might turn around and help you in some way that you've never anticipated, but you have to choose to actually get out there."
One of Fred's favorite quotes from a business partner at Accenture is, "You can't shoot a moose if you're sitting in the lodge." Fred says, "If you really want things to happen, you have to be out there where it's happening. That's probably my best piece of advice."
Tim and Lynda McGrath
Lynda Wort and Tim McGrath didn't meet each other until their junior year at Illinois, after Lynda transferred to Illinois from Lincoln Land Community College. They both graduated with their bachelors' degrees in Industrial Engineering in 1983 and they got married a year later.
Today the McGraths are celebrating 33 years of marriage, two children, and successful careers.
Tim says, "I think the first time we actually met was when we were in a computer lab working in a computer programing class or a data class, and I think we helped each other out with some homework assignment we were working on."
During their junior and senior years, Tim says "We were in a lot of the same classes together so it was nice that we were able to hang out together and that's kind of when we started to date."
At Illinois, Lynda worked in the engineering library, was involved in the American Institute of Industrial Engineers (AIIE), and she tutored students.
Tim was heavily involved in intermural sports, a champion softball team and a soccer team. He participated in the Industrial Engineering Society and was a representative to Engineering Council. Tim also worked in food services and in the library. He says, "I did what I could so I could to try to make ends meet and reduce the amount of my own student loans when I got to the end of the four years."
After graduating from Illinois, the McGraths worked in industry for several years before going on to earn their MBAs. Tim earned his MBA from Northwestern University Kellogg School of Management. Lynda earned her MBA from the University of Chicago Booth School of Business.
Lynda went on to work at McMaster-Carr in 1986 and has been working there ever since. Tim says, "She's got a number of different roles within that company: purchasing, merchandizing, data systems, human resource management and human resource data management within that same company."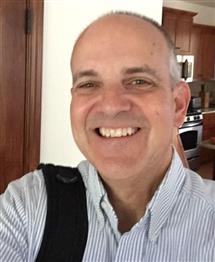 Tim's career has been more unpredictable. He says, "it's a little bit non-traditional for an industrial engineer." After earning his MBA, Tim worked as a market research analyst at Leo Burnett Advertising. He says, "While I was working at Leo Burnett, I started to rethink my own career path… I went back to school to get my teaching certification so I could teach math. I taught math in middle school and high school for several years and then at some point I decided to go back to school again and get my masters in school counseling." For the past 11 years, Tim has worked as a high school counselor.
At ISE, Tim says he learned valuable problem-solving skills. Now as a counselor, he says, "I problem solve with students. I look at trying to create a path… to be successful at the high school level and then beyond." He also says ISE taught him the importance of data. He says, "it's probably given me a little bit of an advantage to be able to analyze data in ways that are maybe different from others that have come up strictly in education or strictly in counseling."
Today, Tim says his favorite part of his job is seeing students "setting goals, overcoming obstacles, and being able to achieve something that they never thought that they could achieve before."
At the University of Illinois, Tim says his most memorable moment was with ISE Professor DeVor. During Tim's senior year at Illinois, his mom became ill and passed away. He went to DeVor's office and says, "I was nervous about talking to him and having to miss time from school." He says DeVor "told me how to make sure that I took care of my family first and that academics and my work responsibilities or school responsibilities would come second."
Tim says his conversation with DeVor taught him "how understanding people can be within giant organizations and… how to always look towards how to help students first and to teach them the content at the same time." He also says it helps him to "remember that you're working with students who have thoughts, who have goals, who also have limitations and to always try to be understanding and compassionate as an educator." This lesson, Tim says is "something that I was always grateful to Professor DeVor for and likewise the University."
Today, Tim and Lynda have two children together. Their oldest daughter is in graduate school at Rutgers University studying to become a physician's assistant. Their younger son earned his degree in risk management at Illinois Wesleyan University and is working in Chicago.
Giving advice to current students, Tim says students should understand their goals and realize "what their gifts are to help other human beings."
Tim says, "I have always been grateful for the preparation that I learned at U of I, the diligence and the perseverance you have to have in order to achieve goals."
Richard Henneman and Janet Fath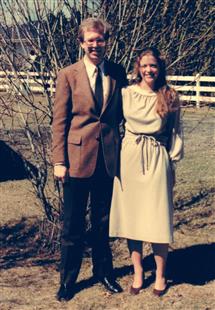 In college, they say the best place to find the perfect spouse isn't in the bars, but in the library. That is exactly what happened to Richard "Dick" Henneman and Janet Fath in the fall of 1979.

Dick and Janet began working at the Engineering Library in August of 1979 and they shared a shift together. At that time, the Engineering Library was on the first and second floors of Engineering Hall. They began dating later that fall after seeing "A Christmas Carol" at Krannert Center for the Performing Arts.

Janet graduated with her bachelors in Industrial Engineering in 1981. Dick earned his bachelors in 1980 and went on to earn his master's in 1981; both degrees were in Industrial Engineering at Illinois.

When applying to colleges, Dick says Illinois was the only school he applied to because he "knew it was a good engineering school."

Janet visited several different schools before deciding to attend Illinois. Both of her parents attended the University of Illinois, Chicago and studied pharmacy.
Looking back at their time at Illinois, Dick says his most memorable time at Illinois was meeting Janet. He also vividly remembers "those -30°F days running between buildings on the engineering campus in an attempt to keep warm." He also fondly recalls the times when Prof. Judith Liebman invited him over to her house to practice piano duets. "She even asked my mother to come over during Mom's Weekend to hear us play."

Other than meeting Dick, Janet says her most memorable time at Illinois was when she was in Professor Richard DeVor's experimental design class and her "luck ran out." She says Professor DeVor "would always ask other students questions. I kind of dodged it for the first couple of questions and then one day, he handed me back my paper but didn't let go. He looked me in the eye, looked at the name on the paper, and after that, he called on me way more often. We called it Learning By Fear."

Dick also had a Manufacturing Engineering class with Professor DeVor. He says, "During the last semester of senior year, the entire class had to give a presentation about a research project that we worked on. I remember that it was very intimidating because we had to speak in front of a group of industry professionals. It was painful at the time, but in retrospect, it was a really great experience."

During her time at Illinois, Janet was involved in Tau Beta Pi, Alpha Pi Mu, and Phi Kappa Phi. She was awarded the American Institute of Industrial Engineering Award and was also a Knight of St. Pat.
Dick says, "Janet was involved in everything… I was less so." When Janet got involved in something, Dick says, "Then I usually got involved in it too."

After graduating from Illinois, Dick and Janet moved to Georgia. Dick says, "our advisor at Illinois, Bill Rouse, took a job at Georgia Tech and we followed him down here. Janet went on to earn her masters degree and PhD in Industrial and Systems Engineering at Georgia Tech. I completed my PhD in the same program." They went on to get married in December 1983.

Today, Janet is a manager at the Centers for Disease Control in Atlanta in their immunization program. Dick has worked in various user experience management positions "in places with three-letter names like NCR, IBM and AT&T." He now leads a multidisciplinary Master's program in Human-Computer Interaction at Georgia Tech as a Professor of the Practice in the College of Computing. He has also served on the UIUC ISE Alumni Board for a number of years and is a past president of that organization.

Dick and Janet have two sons, Nate and Luke. They are very proud of them both. Nate is 23 years old and graduated from Bates College with a degree in Biology. He is currently doing research at Emory University and applying to graduate schools. Luke is 27 years old. He went to Johns Hopkins for his undergraduate degree and went on to earn his PhD in Environmental Engineering at Georgia Tech. He is currently completing a postdoc at Harvard.

Since they left Illinois, Dick says Industrial Engineering "has really changed a lot from when we were there. I think the ISE program is very strong through the merger of IE a few years back with GE, the increased breadth of its offerings, and the quality of its faculty."

IE helped prepare Janet for her career by giving her "really high standards for doing your work but also contributing beyond that." She says IE helped her learn to not get stuck in one area, but to explore as well.

Dick says his time at Illinois "gave us a really good engineering foundation along with solid problem solving skills."

Giving advice to current students, Janet says, "the first two years are probably going to be tough but just keep at it. Once you get past that and you get into your Engineering courses you'll really get an appreciation for what you can do beyond the basics."
As a freshman Janet was told to take a ballroom dancing class "because every engineer needed to take ballroom dancing to get ahead in her career." She says, "I didn't find that to be true, so if you want to take ballroom dancing, go ahead, but I can't say it was an effective tool for career advancement."
Dick suggests that students should take courses outside of their comfort zone. He says, "it really helps engineers in the long run to take an art history class or a course in Shakespeare," because those courses "continue to benefit our lives outside of the workplace." Dick also tells students signing up for classes to focus not only on course content, but also the professor teaching the course. He says that with time, "You may not remember the details of the course content, but you will remember the professor and the energy and enthusiasm for the material."