New book highlights ISE alumna, Apollo 11 engineer Barbara Crawford Johnson
Zack Fishman
10/29/2018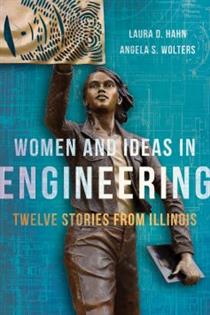 Trailblazing women engineers from the University of Illinois are celebrated in the new book
Women and Ideas in Engineering: Twelve Stories from Illinois
by Laura D. Hahn and Angela S. Wolters. Within this collection of stories, several of the highlighted women hail from ISE: Grace Wilson, who joined the Industrial Engineering faculty in 1946, was the first and only woman to teach in the College of Engineering for over 20 years; and Amy Doroff, a 2015 General Engineering graduate, won an innovation award and began her own tool design company while a student.
One particularly notable alumna is Barbara Crawford Johnson, who played a significant role in the Apollo 11 moon landing and was the first female graduate of Illinois' Industrial Engineering program. She has been widely recognized for her 36 years of work in the aerospace industry with awards from NASA and the American Astronautical Society, as well as being the first woman to be named a University of Illinois Distinguished Alumni.
Below is an excerpt of Johnson's story by Angela S. Wolters from Women and Ideas in Engineering.
Barbara Crawford Johnson, who went by "Bobbie" most of her life, wanted to fly from an early age. Bobbie deeply admired Amelia Earhart. Whenever she could, Bobbie would head out to a dirt landing strip near her hometown of Sandoval, Illinois, to watch the planes and to beg for rides. When she got one, she'd interview the pilot to learn the "hows" of flying and would ask for a chance to guide the plane. As the years passed and she learned the basics, her love for flight grew.
But she didn't land on a clear college major until high school, where she realized that her combined love for math, science, and flight could make a perfect entrée into aeronautical engineering.
"I didn't really know at the time that girls didn't take it," Bobbie noted, reflecting on her choice of major. "My dad never said anything: he thought it was a great idea." Her mother did, too. With full support from home, she was on her way.
The University of Illinois was the most economical choice given the in-state tuition and scholarships. Bobbie enrolled in 1943. At the time, Illinois was a year away from offering an aeronautical engineering degree, so she selected general engineering as an alternative, which provided her with a strong technical background in all engineering disciplines.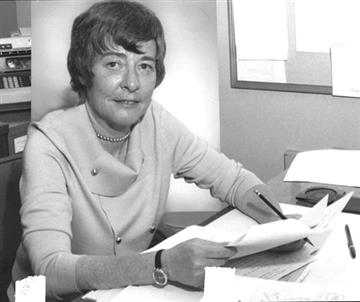 In 1946, she became the first woman to graduate with a general engineering degree from the University of Illinois. Bobbie decided to pursue her love for aviation through a job with North American Aviation in California (later to become the Space Division of Rockwell International).
Within five years, Bobbie moved from her original position as mathematician to a senior aerodynamics engineer and worked on the Navaho missile program, one of the country's first missile efforts.
During the same period, Bobbie and her husband had a son. It was a fabulous time for her and her son, but when her team began to prepare their bid proposal to NASA for the Apollo project, she decided to return to work full time. Bobbie was captivated by the thought of sending a "man to the moon." Once NASA selected Rockwell for part of the Apollo project, Bobbie and the rest of the team started receiving widespread notice for their contributions to manned space flight.
Her work on the Apollo mission focused on performance and design trajectories for atmospheric entry. In 1968, Bobbie took on the role of manager of Mission Requirements and Integration for the company's Apollo Lunar Landing contract with NASA, making her the highest-ranking woman in her division at Rockwell.
For Bobbie, out of all of her work, the Apollo Lunar Landing stood out as a contribution "you wouldn't dream you could do…[but] we did it!" Her "can-do" attitude and her technical expertise have secured her spot as a pioneer of the U.S. missile and space program, helping humankind touch the moon for the first time.