Take your hands off: Autonomous technology
Madeleine Hubbard
9/18/2017
The average American can expect to be in three or four car accidents in their lifetime. In a busy world, many people focus on their phones or food instead of the road while driving.
Surgeons in the US often work long shifts and see many different patients with different problems in one day. Because they are human, there is a chance of error.
With autonomous technology, these problems may not be as relevant. For years, farming equipment has been autonomous. Today, cars with automatic parking systems are widely available to consumers.
Now, ISE is on the forefront of research on autonomy. ISE students, faculty and alumni are working to make sure that in the future, incidents of vehicle crashes and surgical errors might be greatly reduced.
A rising focus option (Secondary Field Option) in ISE's Systems Engineering and Design major is Autonomous Systems and Robotics. According to Bloomberg Technology, autonomous cars are expected to make up a $42 billion global market share by 2025.
Today, cars with automatic parking systems are widely available to consumers. Illinois Professor Daniel Work has shown that if even 5 percent of vehicles on the road are automated, traffic flow can be dramatically improved. Self-driving vehicles prevent traffic jams because they drive at a constant speed, instead of creating stop-and-go traffic waves.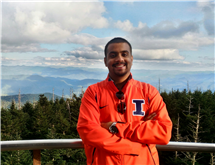 Ramakrishnan Narayanan recently completed his master's thesis on image recognition. Originally, Narayanan says his project "wasn't really much about working with autonomy. It was about working with automobiles and working with big data." A graduate student in industrial engineering, Narayanan's thesis focused on using existing car sensors and simple computers and cameras to create an algorithm that would allow a car to recognize bicyclists wearing helmets. He worked with the Illinois Geometry Lab and a group of students there to make his project possible. This work is one of the foundations of autonomous vehicles: preventing accidents with self-driving cars.

Narayanan says the biggest success his group achieved is that "we got this done with the basic, minimum resources with standard out-of-the-box technology, and people who have zero to no knowledge in it. Everybody had to be brought up to speed."

Narayanan says he was able to utilize many resources offered through the university. "You don't really need to buy [equipment] or need to rent it separately. All of it is available through the university… I honestly feel [Univeristy resources are] underused for the amount that it can help with respect to research. I really think that a lot of people can make use of it."

Giving advice to other students, Narayanan says, "The simple thing would be to not restrict yourself… I'm a mechanical engineer. I came in for grad school as an industrial engineer, and I'm doing a lot of things a computer science engineer would do. As an engineer, you sort of restrict yourself to your area of focus, but I suggest you kind of branch out, try different things and not be averse to steep learning curves."

Looking to the future, Narayanan says, "Autonomy is going to happen, whether we like it or not. I know a lot of people don't really trust [self-driving cars], but that's going to happen…. It's going to make things safer. Unlike humans, algorithms and computers are not distracted by mobile phones or eating while driving."
Students and faculty in ISE are also working to use autonomy outside of vehicles. Recently, ISE Professor Dušan Stipanović says he has worked on "collision avoidance and tracking control for robotic arms". This work was done with his PhD student Shankar Deka who wrote his thesis on this. Stipanović says, "We hope this will have an application in minimally invasive surgery training."

Stipanović, who recently received the Humboldt Research Award, says, "Most of my research is theoretical. I am working with models of dynamical systems, which are various types of differential equations. Applications are in controlling autonomous vehicles and robots."

While autonomous cars can be safer than the average vehicle, Stipanović says, "I think pushing too fast is a major problem in terms of safety. For example, we are far away from having safe solutions for including autonomous cars in heavy traffic…. I hope we proceed cautiously and under that condition that I am very excited to see how successful we [humans] are going to be."

After serving in the US 82nd Airborne Division, William "Bob" Norris earned his master's from ISE in general engineering in 1997 (since renamed Systems Engineering and Design in Fall 2016).

Norris went on to work for John Deere where he created and produced the R-Gator. Norris was the lead engineer, program manager and the business manager for the project. Norris says his project group was "looking at creating a vehicle that could travel with [soldiers] autonomously and carry their equipment." Soldiers often have to carry well over 100 pounds of equipment during long missions. The R-Gator would allow prevent soldiers from becoming fatigued and allow them to focus on the mission at hand.

There are possible legal problems with autonomy that could arise. Norris says, "The main issue with autonomy, until it's resolved, is what happens currently if there's an accident or an issue? The person that's driving the vehicle is the one responsible… The problem with autonomy and why it isn't here already." If an accident occurs with an autonomous vehicle, it is unsure if the car owner or the car manufacture is at fault.

Norris also asks, "How capable do these systems have to be relative to a human operator? We already know they're better, but how much better can you feasibly be and what's acceptable?" He thinks that in the near future, "the car may drive itself but there needs to be somebody there to take over if there's an issue."
ISE Professor Girish Krishnan is the faculty mentor for students studying autonomous systems and robotics. The curriculum, Krishnan says, has "real, practical courses. There are several robotics courses taught by the ECE Department, some taught by our department, and some taught by the mechanical department."

Copious amounts of time and work go into preparing these courses for students. Krishnan says, "These courses are repeatedly updated to the state-of-the-art…. I think this way we make sure that students… are equipped with [an] arsenal of knowledge."

For students interested in autonomy, Krishnan says, "Students should be strong in programming…. And basically inquisitive… We have an excellent workspace environment here, both in the mechatronics lab, as well as in many other labs, so they could kind of get their [feet wet] with any kind of state-of-the-art equipment related to autonomy. They should be aware of those opportunities."

At the U of I, Narayanan says, "I think that it's important that any undergrad really involve themself in some sort of research in some capacity. I think more than your coursework, this gives you an idea of the state of the technology that's available right now and where we're going forward…. I think better decisions can be made if people are more aware. It's also a great opportunity to learn new stuff and who knows, you might just discover you have a different interest.
Watch TEAM Thorough-Fare: University of Illinois' Submission to the 2017 Driverless Future Challenge, with ISE Professor Richard Sowers and Ramakrishnan Narayanan, et al.